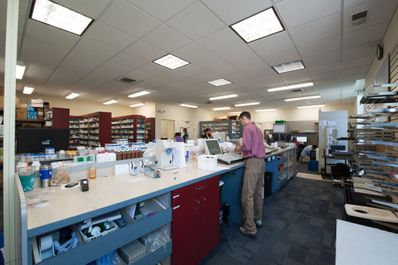 Northeast Pharmacy has been specifically designed to meet the needs of the Assisted Living, Group Homes, Behavioral Health, the Developmentally Disabled, and other settings where additional needs with medication assistance is required or desired. Our services are utilized in many settings where a nurse is providing care or where a non-licensed caregiver is overseeing the patient's self-administration of their own medications. Northeast Pharmacy services are also used by many ordinary individuals who enjoy the convenience of single-dose packaging. Some of the services we provide are:
Prescriptions in a variety of dispensing systems
Multi-dose packets
Medi-Packs are carefully labeled to clearly identify the contents of each packet
Medi-Packs are filled and delivered weekly, bi-monthly or monthly
Medi-Packs utilize a post-consumption billing system, which means you or your insurance provider are only billed for what has been delivered to the facility
Medi-Packs have been known to reduce Med-Pass times by as much as 40%
Medi-Packs allow for greater adherence when residents have a leave of absence
Bubble Packs
Bubble packs provide for a greater level of security and accountability for control medication prescriptions and can be used in that way in combination with the Medi-Pack system. Add some language about counting doses.
Traditional Vials
Northeast Pharmacy accepts most prescription insurance plans and your copays will be similar to the typical bricks and mortar pharmacies.
No matter which system you utilize all routine medications are automatically delivered to your facility. Only PRN medications need to be reordered.
Medical Supplies
Direct billing to Medicare, Medicaid, and most commercial insurances Full line of products
Ambulatory Aids
Bath Safety
Beds and Accessories
Diabetic Management Program
Incontinence Products
Lift Chairs
Ostomy Supplies
Nebulizers and Medications
Compression Stockings
Urological Supplies
Wheelchairs and Accessories